Fish cakes/patties
2 small canned sardines in olive oil

a handful of raw spinach

1 large carrot

1 red onion
1/2 small zucchini
1 red chili pepper
3 garlic cloves
2 1/5 eggs
1 tomato
olive oil
coriander
half red paprika
coriander
sea salt
black pepper
2 low carbs crackers (10 per 100 gram)
 Stir fried cauliflower rice
300 gram cauliflower rice
1 chopped red onion
2 cloves of garlic
1 red pepper
sea salt
Preparation
Chop onion, garlic, pepper, tomato (remove seeds) and coriander into small pieces. Clean carrot and grate as you would cheese. Wash zucchini and grate the same way using the skin.
Grind crackers fine until powdery. Throw all into a bowl with the fish and mix with your clean hands or spoon. Add salt and black pepper to taste. Add eggs and mix thoroughly.
Heat a layer of olive oil. Roll the fish mixture into balls in the palm of your hand and then flatten them like you would with burgers. Lower into hot oil. Fry one side until brown and then turn to the other side. When brown remove from oil and leave to drain on tissue, baking paper.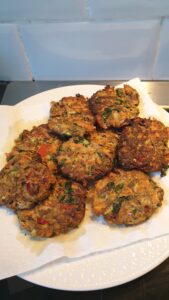 Caulifower rice
Sautee chopped onions, garlic and red pepper in olive oil and then throw in cauliflower rice and stir fry for 5 minutes on high fire.
Grilled aubergine
As many slices of aubergine as you like. You can either rub it in with olive oil and put in the oven or use a non-stick pan. I like to use the oven. Serve with fresh coriander.
Sprouted spicy lettuce
From my own kitchen garden
Savour each and every bite as if it is your last.
For one person:
2 fish patties,  1 1/2 serving spoon of cauliflower rice, 4 slices of aubergine, 1 handful of lettuce sprouts.
Enjoy!
Waheeda