My conventional and natural treatments go hand in hand. Since December 2021 I am in the care of the Netherlands Cancer Intstitute, Antonie van Leeuwenhoek who has a sarcoma specialist team with international experience.
My doctors and oncologists on my conventional path are: Dr. Van Trommel until January 2022 and now Prof. W. van der Graaf.
I believe an eclectic path will benefit me and have always been an openminded person and do not believe that one or the other should be excluded. However I do not use anything that I have not researched on for example pubmed, nbci… 
My (conventional)Treatments
Timeline 2021 - 2023
Starte November 2021: Visit to my GP and first alert and then several examinations and sonograms of my abdomen and uterus, first siting of uterus cancer and referral to the Netherlands Cancer Institute, Antoni van Leeuwenhoek (AVL).
December 2nd, 3rd, 7th, 31st 2021: scans of my abdomen and thorax, first diagnosis Uterine Leiomyosarcoma with pulmonal metastases – Gynaecologist and oncologist dr. Van Trommel

2022
3. January 4th: consult with Prof. van der Graaf about medical treatment with chemotherapy after operation. Mentioned our Enconomics Plus report from RGCC (genetics test). Mailed report to her.
4. January 11th 2022: Operation and removal of large primary tumor (16 cm.), uterus and ovaries with clean margins by Oncosurgeon Dr. W. Van Houdt at AVL.  One week hospitalisation.  Wound inflamed after 1 week but ointment seems to be helping.
5. February 1st 2022: Phone consult with Prof. van der Graaf. Had not read report. Is sceptical. Is ordering a similar test at the Hartwig Medical Foundation.
6. February 8th 2022: 4th scan of thorax, abdomen and left leg.
7. February 15th 2022: Results of scan – mets increased since December 31st from 11 to 20. Abdomen clean. Pain in back due to largest 2,5 cm tumor in right lung. Abdomen clean, no sign of disease. Is not going to use our genetic test. Results from HMF not yet available. Life expectation with treatment approx. 30 months, without treatment unknown.
8. February 16th 2022: Sent an email to Professor C. Deroose Leuven to offer myself as a study for radioactive targeted radiaton. I do not have the somatostatin receptor they are targeting.
9. February 19th 2022: Sent an email to Professor Bass Hassan Oxford University regarding targeting IGF receptors of which mine are high risk.
10. February 21st: Profesor C. Deroose referred me to Prof. dr. Patrick Schöffski Head, Department of General Medical OncologyLeuven Cancer Institute who advised me to arrange for a second opinion.
11. February 22nd: had a conversation with Prof. dr van der Graaff and agreed on first starting with Doxorubicine (the red devil) and to then assess it's efficacy. If not then follow up with Dacarbazine (DITC). Both have been tested on my tumour cells by RGCC lab. Doxo had 70% efficacy and DITC 50%.
12. February 22nd: called Erasmus MC about the cyberknife radiation method.
13. February 22rd: had an ejection fraction doen – a measurement of the percentage of blood leaving your heart each time it squeezes (contracts). This to be safe because the Doxorubicine can cause heart failure.
13. February 23rd: Dr. Nuyttens called me about the cyberknife method. He is the only specialist who can do this and he called me back to tell me personally that my tumour is too aggressive and I have too many metastases to safely target the lungs.
14. February 28th: Sent 2 mails to my medical oncologist asking her why Doxorubicine and not Etoposide which scored 81% efficacy in my RGCC test also if I have the MDR1 gene at 60% what does that mean voor Doxorubicine.
15. March 1st: 1st round of Doxorubicine.
16. March 22nd: 2nd round of Doxorubicine.
17. April 12th: 3rd round of Doxorubicine.
18. April 26th: 1st CT-scan since starting chemo.
19. May 3rd: 4th round of Doxorubicine with 80% dosage.
20. May 24th: 5th round of Doxorubicine
21. June 14th: 6th round of Doxorubicine
22. July 5th: 3rd scan during chemotherapy
23. July 26th: Results scan – positive stability on the good side of the disease
24. September 5th: 1st scan after chemo
25. September 20th: Pet-can
26. December: CT-scan – everything grown in size and numbers
27. December 13th: Started on 90% Trabectedin

28. Februari 2023: Switched to 80% Trabectedin and once per 4 weeks
29. June 2023: Added Radiation
March - June 2022: Monotherapy Doxorubicin
 March 1st 2022 will be the first round of a 6 cycle Doxorubicine (the red devil). I consciously chose a mono therapy instead of the combination Doxorubicine/Dacarbazine. My reason being maintaining quality of life and the Dacarbazine increases the heart side effects of Doxorubicine. Beacuse I am also using complematary biological anti tumor infusions I am confident. I have read the information and prepared as follow:
I had a PICC line inserted because of painful veins.
I bought special creams for hands and feet.
Mirre oil for mouth swishing.
Soft toothbrush.
Paradontax toothpaste.
Cut my long hair on the morning of March 1st to reduce the impact of hair loss. No cold capping for me.
Cut my nails and polish them with nail hardener to prevent breaking.
My aunt made me soup for the nauseau days after chemo.
I have warm water bottles.
Prescribed nausea medication.
Warm clothes and socks.
Peppermint oil for nausea
A good bag for all my stuff.
A long phone cable.
Honey sweets.
My sister made me ginger and rosemary ice cubes.
Side effects after March 1st 2022 – 1st chemo
Day 1 – 3:  (from nausea meds), black and blue back (blood cells including thrombocytes are being targeted), dry mouth (the mucous membrane is being affected by drinking loads of water, fresh ginger rosemary tea and brushing daily), wobbly legs (just slow down), only 2 to 3 hours sleep (steroids effect so more time to write, grabbing sleep while I can), hot flashes. No nausea yet.
Day 4 -10: More energy this week but already notice that I have done too much this week and that my body is protesting. Since yesterday March 10th I have bloody mucous in my nose. My nose is blocked and since last night my throat hurts and I can see that the inside of my mouth is blotched. Have a headache and a sore body. But a roaring appetite. Today is a bed and broth day for me.  Have had e PCR test to rule out Covid.
Day 10 – 14: Fever and bedridden with throat aches.
Day 14 – 21: Hair started falling out in handfuls. Fever was gone and started feeling better. Shaved head on day 21.
Side effects after March 22nd, 2022 – 2nd chemo
Day 1 – 2: The first 2 days I was very hyper and doing lots of stuff including a tiny bit of spring cleaning. Walked for hours. Stopped one nausea tablet, dexamethasone (corticosteroids), to prevent constipation.
Day 3 – 7: Been sleeping like a bear.  Did not go outside for two days. Too tired to make it down the stairs. On day 5 I started going outside. Only eating and sleeping without any sleeping pills. Have never experienced anything like this but have given in to it because sleeplessness has been haunting me for months. Had cravings and decided to give in to them and ate some carbs two days in a row. I now know that stopping the steroids and accepting a little nausea was worth being able to sleep like a bear.
Day 8 – 21: A lot of fatigue and forgetfulness. Some pain in my stomach. Blue cuticles on both fingers and toes. Some more hairloss. Unable to concentrate for long periods of time.
Side effects after April 12th 2022 – 3rd chemo
Day 1 – 5: Stopped the nausea tablets on day 3 and was more prone to smells and nausea, but managed to not throw up. Sleeping was ok.
Day 6 – 12: Mouth started bothering me and unfortunately I got mouth sores and black spots on my tongue. Used diluted mirre as a mouthwash and mirre tincture directly on the sores. Didn't seem te work. Will now start using biacrbonate soda – 1 teaspoon diluted in one glas of water – to gorgle with.
Day 12 – 21: Felt reasonable enough to celebrate my birthday but had to deal with a whole load of fatigue afterwards. Didn't care because had not expected to celebrate another birthday. Had my first scan since I started chemo on the 26th of April 2022. 
Side effects after May 3rd, 24th, June 14th 2022 – 4th, 5th en last chemo
Because of the increased nausea after the 3rd chemo my doxorubicine dosage was reduced to 80%. That meant almost no nauseau but still increased sensitivity to noise, bullshit and crowds of people. 
Side effects after  last chemo
It is is now november 2022, 5 months after my last chemo. I still have a dry mouth and drink a lot of water and coconut water. My hair has grown back. The fog in my brain has lifted but I still get tired from crowds and long visits. I have a lot of back pain from a 3,5 cm tumor in my right lung pressing against my ribs. Only heat helps te ease the pain. My fingernails are no longer blue. My big toes still are partially blue. My bloodwork shows me to be a very healthy woman with exception of the metastases in my lungs. Bummer!
Dec. 2022 - 2023: Monotherapy Trabectedin
1st round on December 13th: 26 hours non-stop infusion – extreme fatigue, sleeplessness, body pain, water retension, lightheaded. The first week I am in bed for 4 to 5 days after that I start recovering. The recovery weeks are good weeks.
7th round May 23rd en 24th: Up until now all the mets in my lungs are schrinking except for one that keeps progressing. Side effects remain the same.
June 2023 SBRT - Stereotactic Body Radiation Therapy
My CT- and PET scans: in 2021 - 2023
1st & 2nd CT-scan November/December 2021 – Discovery tumor and diagnosis Uterine Leiomyosarcoma with lung metatsases.
3rd CT-scan (February 2022) – 20 metastases in both lungs. Clean torso after a full hysterectomy.
4th CT-scan (April 2022) – shrinkage and stability. Torso still clean
5th CT-scan (July 2022) – positive stability and torso still clean
6th CT-scan (September 2022) – no new metastases, 3 progressive mets in right lung, torso and organs still clean
7th PET-scan (Oktober 2022) – shows that the metastases in my lungs have decreased metabolism. Everything else is clean. 
8th CT-scan (November 2022) – all have grown in size and numbers.
9th CT-scan (Januari 2023) – all shrunk
10th CT-scan (April 2023) – all except for 1 shrunk.
Steps to consider when starting conventional treatment
Cyberknife radiation
This is precision radiation using a robot arm. This may be an option if the sarcoma has spread to the lungs or liver. Please take a look. He does 2 procedures Stereotactic Radiosurgery (SRS) or Stereotactic Body Radiation Therapy (SBRT)
PICC lijn (Dutch) or Central line when you have sensitive veins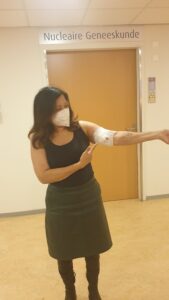 Because of extremely painful veins I had a Central Line inserted at my hospital Antoni van Leeuwenhoek in Amsterdam. Hopefully no more needles for me.
A central line is a long, thin, hollow tube made from silicone rubber. They are also called skin-tunnelled central venous catheters. But you may hear them called by brand names such as Hickman® or Groshong® lines. They are used to give chemotherapy treatment or other medicines.
RGCC - Genome Testing Switserland
I had my uLMS screened and tested on different types of chemotherapy (alkylating agents and inhibitors), biological substances, and lots more. This helped me to understand cancer, my markers and to make a well-founded decision as to additional treatment. I would advice everyone to do so. It is money well spent. Because of this my doctor at the AVL ordered her own genetic testing to compare results.
Radioactive radiation from inside out Feb.2022
Doctors at UZ Leuven manage to halt the metastasis of rare neuroendocrine tumors by means of a radioactive molecular cancer drug, injected into the bloodstream. This reduces the chance of further growth considerably, sometimes up to 80 percent. At the moment it mainly concerns tumors in the gastrointestinal tract, the pancreas and the lungs, but the researchers are also looking at whether the radiation from the inside could be interesting for other cancers..
Hartwig Medical Foundation Netherlands - Genome Testing
Chemotherapy
SBRT Stereotacttic Body Radiation Therapy
Precision targetted external high dose radiation of small tumors.
Dealing with chemotherapy side- effects
Doxorubicine side effects
This information is taken from chemocare, please visit the link for more info.
Trade Names: Adriamycin ®, Rubex®
Doxorubicin is the generic name for the trade name drug, Adriamycin®, as well as, Rubex®. In some cases health care professionals may use the trade names Adriamycin® or Rubex® when referring to the generic drug name Doxorubicin.
Drug Type:
Doxorubicin is an anti-cancer ("antineoplastic" or "cytotoxic") chemotherapy drug. Doxorubicin is classified as an "anthracycline antibiotic." (For more detail, see "How Doxorubicin Works" section below).
What Doxorubicin Is Used For:
Among others
Bone Sarcoma
Uterine sarcoma
Soft tissue sarcoma
Blue nails
Not a whole you can do about this. I guess they are affected because, like hair and skin, they also have rapidly multiplying cells. What I have done is protect my nail with a good nail hardener to prevent them from breaking. I also kept them relatively short just a 1 or 2 mm rim. I have always polished my toenails no matter what, the whole year through. So chemo didn't change that. I started polishing my fingernails as well. Unfortunately, my nails have turned blue. The more reason to polish them. I do so myself. I would advise against any rigorous treatments at the nail salon.
Constipation
I use Fibro Pur capsules from day one to stimulate the bowels. On day 3 it starts helping. I also drink two litre waters everyday.
Dry skin
I use coconut oil on my body, feet and scalp. You can also use olive oil as long as it is first pressed. Of course drinking at least 3 litres of water or tea, a day is extremely important for your skin. Chemotherapy dehydrates. I use green tea and camomille. It is the first thing I do in the morning and the last at night. After the 2nd round of chemo my girlfriend made me facial oils. 
Water retention
I use lots of celery in my soup and morning shake to get rid of water.  Dandelion tea helps as well. Drink lots of water and herbal tea and keep moving. Also started weekly edema massage therapy.
Dry mouth and mouth sores
After the 3rd chemo still developed mouth sores. Mirre tincture did not help. Have been advised to use bicarbonate soda.
Cold capping to reduce hair loss
I decided to just go bald if that is the case instead of increasing my discomfort. But maybe this is something you would like to do. In the Netherlands this is covered by our insurance. Cold caps and scalp cooling systems are tightly fitting, helmet-like hats filled with a cold gel or liquid that you wear during chemotherapy infusions. These devices have helped many people keep some or quite a bit of their hair when treated with chemotherapy that can cause hair loss.
Collaborate
Below names of specialists and experts have been referred to me by members of Leiomysarcoma supportgroeps. Linkedin members and on my own search for information to get a grip on what I am dealing with.
The Netherlands Cancer Institute - Antoni van Leeuwenhoek - Prof. Dr. van de Graaf (my oncologist)
The NKI is one of the top 10 Comprehensive Cancer Centers in Europe. By combining cancer care and research and facilitating the exchange of knowledge, we try to find a cure for every cancer
Prof. Rare Cancers Nijmegen - Carla van Herpen
Van Herpen is the first Professor of Rare Cancers in the Netherlands. She will work to improve survival rate and quality of life for patients with rare cancers, paying special attention to salivary gland cancer and head and neck cancer. Rare cancers are characterised by poorer survival rates than more frequently observed cancers because there is often a delay in making the correct diagnosis, fewer adequate therapies are available, and fewer clinical trials are being set up for them.
Mayo Clinic
Mayo Clinic's long history and experience in treating soft tissue sarcoma is important when dealing with a rare disease in which subtle differences must be recognized to make the right diagnosis and recommend and execute the best treatment.
Each year, Mayo Clinic doctors care for more than 2,000 people with soft tissue sarcoma, including very rare types. This means your care team is prepared with the knowledge and resources to provide you with exactly the care you need.
Sarcoma Patient Network en Sarcoma Centres Worldwide
Identifying problems, challenges, and unmet medical needs in sarcoma management, helping find solutions to improve the situation in collaboration with all relevant stakeholders.
Raising awareness for sarcomas in order to facilitate early diagnosis.
Supporting and strengthening treatment by specialist teams using consensus guidelines.
Delivering research that is adequately funded, coordinated and patient-centric
Leidsche University Medical Centre LUMC
The LUMC has a leading role in the European Expertise Committee Sarcoom. The experts in Leiden have international contacts. 


Prof. Robin Jones Sarcoma unit Royal Marsden UK
Professor Robin Jones – leading one or the largest sarcoma units here in the UK  high-grade radiotherapy is usually offered first to assess response before the more aggressive treatments.
Chirurg Diaconessenhuis - Thijs van Dalen
A message from my network: a surgeon with a lot of experience with leiomyosarcoma (there are not a lot of experts). I think he helped write the protocols for LMS. 
Erasmus MC - Dr. Nuyttens specialist Cyberknife Radiation
He is the only one in the Netherlands who masters this method. He took the time to call me and explain to me what my options are.


Advocate
These groups I found online in my search for support and stories form real time cancer bravehearts instead of only diving into data. But also the people who can help you advocate your cause.
Sarcoma - information for Leiomyosarcoma families USA
Here you will find loads of infromation on leiomyosarcoma in the USA.
Also a list of the most popular and well-known sites.
LMS Support group and Resources - Global
I am a member of this support group even though it is US based. Because of the limited cases of uterine leiomyosarcoma, there is no support group in Europe.
Inspire2Live - Peter Kapitein
Aims to bring patients, researchers and clinicians together to start a movement. The aim is to work together internationally to get cancer under control and to lead happy and healthy lives in harmony with cancer.  I have had very good experience with in particular Peter Kapitein.
Leiomyosarcoma Bootcamp for newly diagnosed
LMS Boot Camp webinars were written by Sharon Anderson, President of Leiomyosarcoma Support & Research Foundation. She talks openly and frankly about the most important things you need to know to survive. Sharon's knowledge comes from her research, discussions with sarcoma experts and personal experience helping patients since 2002, after she was diagnosed with stage 4 ULMS. For more guidance from leiomyosarcoma survivors see Words of Wisdom.